Path of Exile One-Week Mayhem Random Draw Microtransactions Prizes
Path Of Exile / News
Date: Nov/23/20 02:35:17
Views: 210
The Path of Exile Mayhem event takes classic Path of Exile league modifiers from Anarchy, Invasion, Breach, Ambush, Torment, and Harbinger and pushes them to the extreme. Path of Exile One-Week Mayhem Starting at Noon December 4 (PST), which is Dec 04, 2020, 2:00 PM (CST)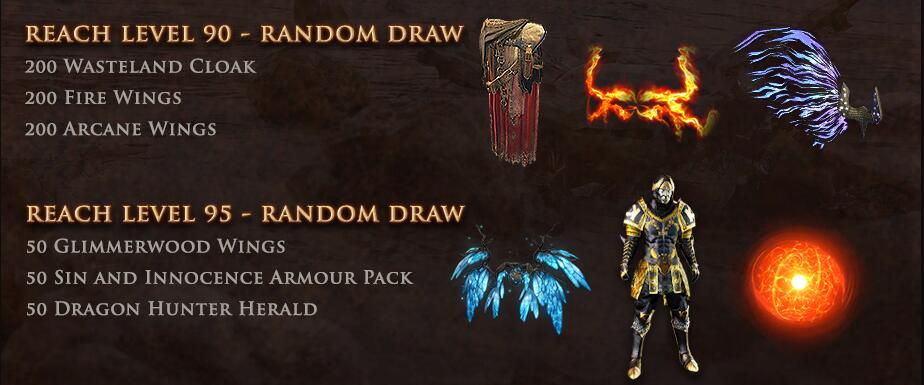 If you reach one of the level thresholds below, you'll automatically be in the draw to win one of the microtransaction prizes below. These will be drawn at random and shared across all versions of the event.

REACH LEVEL 50
GUARANTEED TWILIGHT MYSTERY BOX (ONE PER ACCOUNT)

REACH LEVEL 60 -RANDOM DRAW
1000 INFERNAL FOOTPRINTS
1000 PURPLE LIGHTNING WEAPON EFFECT
1000 GHOST FLAME SKULL

REACH LEVEL 70-RANDOM DRAW
1000 NECROTIC PORTAL EFFECT
1000 SPIRIT PORTAL EFFECT
1000 ARCANE PORTAL

REACH LEVEL 80-RANDOM DRAW
700 GORE CHARACTER EFFECT
700 PURPLE CHARACTER EFFECT7
00 RADIANT CHARACTER EFFECT

REACH LEVEL 85 - RANDOM DRAW
200 DEMON KING ARMOUR SET
200 VIPER ARMOUR SET
200 ULTIMATE CHAOS ARMOUR SET

REACH LEVEL 90-RANDOM DRAW
200 WASTELAND CLOAK
200 FIRE WINGS
200 ARCANE WINGS

REACH LEVEL 95 - RANDOM DRAW
50 GLIMMERWOOD WINGS
50 SIN AND INNOCENCE ARMOUR PACK
50 DRAGON HUNTER HERALD

The microtransaction prizes are not awarded automatically based on meeting the level requirements. Prizes will be drawn after the event. Leveling multiple characters in the same event will increase your chances of winning one of the randomly-drawn awards.