This is really small information, but it's important.
If you look at Mari's Secret Shop, You can purchase 5 T2 Gem Chest by spending 28 blue crystals. The important point is this is a tradeable item.

How much is this chest?
Now, this chest is sold for 120-150 gold. Since you bought five, you will be able to get 600-750 gold.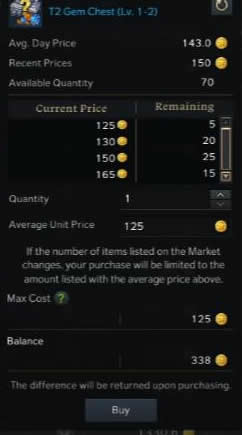 Then let's check the currency exchange.
As you can see, 200 gold is needed to purchase 95 Blue Crystal. So you can use up to 28 blue crystals to make more than 300 blue crystals.

If you don't have a blue crystal right now and you have this chest on Mari's Secret Shop's item list, I hope you convert the Lost Ark gold into a blue crystal and buy this chest. And checking the previous list is also important.