The point system goes as the following :
1. Each mod on your ring (or line of text) can give you up to 1 full point. So, 6 points is the maximum a ring can achieve.
2. Give 1 full point to any mod that is 66% or higher of the maximum value it can spawn. (obviously, bad mods like stamina and shit don't count) For example, a rare ring can spawn 40 Life, so give one full point to a ring with 28+ Life
3. Give 1/2 point to any mod that is 33-66% of the maximum value it can spawn. For example, a rare ring with 7-13 Strengths would be given 1/2 point.
4. Now, just calculate each mod and count them.
3.5 points AND UNDER = 99% of time, charsi (UNLESS START OF LADDER) 4 points = usable(pvp) and sellable 4.5 points = good ring 5 points = great ring, pvpers will be all over this 5.5 points = amazing ring 6 points = top ring on ladder
LIST OF PERFECT RING MODS** 10 FCR... 20 Str 15 Dex 40 Life 90 Mana 120 AR 9 Rep Life 11@ Res 30 Single Res 9 Minimum Damage
Using this ring as an example it has :
10 Faster Cast rate (1 point)
14 to Strength (1 Point)
38 to life (1 point)
11 to all resistances (1 point)
5 Cold resistance (0 points)
The ring has also rolled 5 out of 6 possible mods
Totaling it up this is a 4 point ring out of a total of 6 possible points, however that being said it is a very useful ring for just about every class for PVP. This is still an excellent ring
Here's a useful chart to help visualize this as well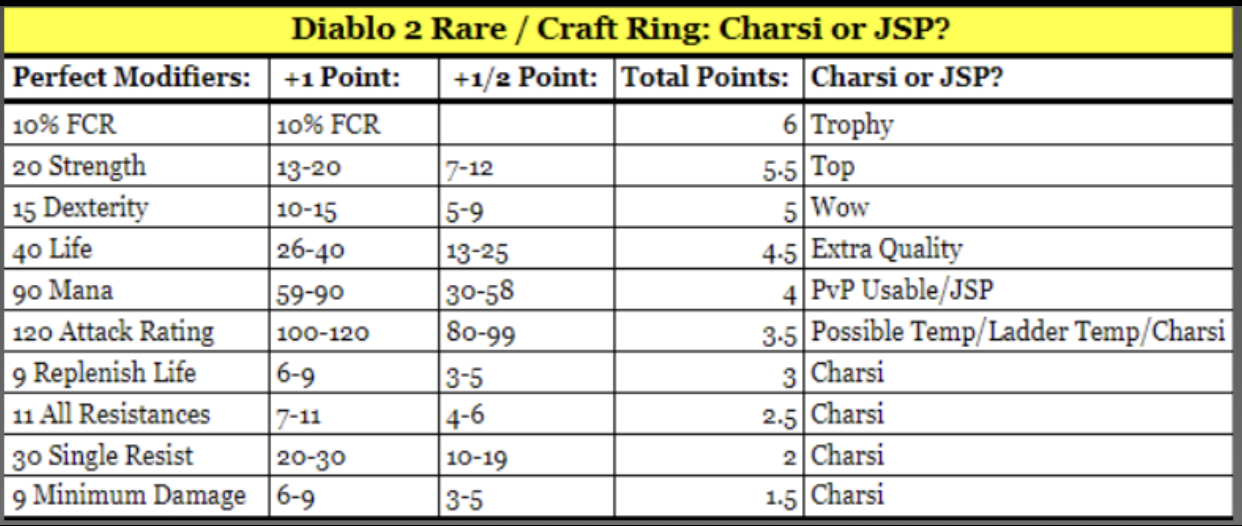 Just keep in mind that the combination of affixes is important.
U4gm is the easy-to-use shop for D2R items that allows you to buy rings, and much more. Easy, trusted, and secure!