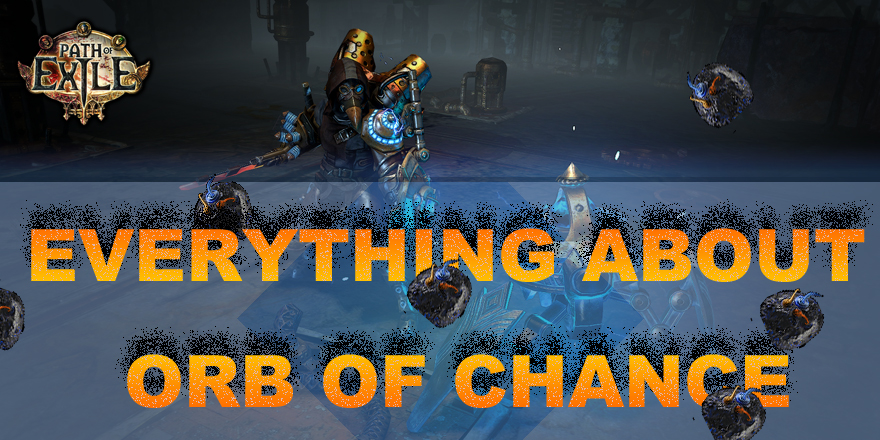 One of the most common Orbs in Path of Exile is Orb of Chance which could upgrade a normal item's quality to a random much higher tier. But the chance to upgrade an item to Unique Rarity usually asks players to use hundreds of Orbs of Chance. And that's not a good sign especially for those players who do not know too much about this item. Therefore, you need to know some basic information about Orb of Chance before you select the best method to get it. And here comes everything about Path of Exile Orb of Chance.

First One: What Is Orb Of Chance In Path Of Exile?
In Path of Exile, an Orb of Chance is a PoE currency item that can be used to upgrade a piece of normal equipment to a random rarity (usually including magic, rare and unique). And that means if you have this item in hand, you can use it to upgrade a normal item to a random rarity.

Second One: What's The Price Of Orb Of Chance In PoE?
1 Orb Of Alchemy = 0.0667 Chaos Orb
1 Orb Of Alchemy = 0.0014 Exalted Orb

Click Here to get the current market price

Be Sure To Search In Your League To Get The Right Price.

Third One: What's The Odds Of Orb Of Chance In Path Of Exile?
Just like the above stated, the resulting item of chancing is most commonly a magic item and uncommonly a rare item. Gamers should weigh the cost of using up Orbs of Chance carefully to acquire a specific unique against the cost of simply trading for that unique. The odds of creating a unique item is different for every unique item and depends on the rarity of that specific unique item.

Orb of Chance Item Level: Here comes the base item's item level does not limit the type of unique items that can be acquired.





To get the odds of Orb of Chance, players tested several hours in Act 8 and Act 9 to farm normal items and then chanced by Orb of Chance. Turns out, use 516 Orbs of Chance and get 436 magic items, 80 rare items, and do not get a unique item.

Fourth One: Orb of Chance Unique Items In PoE
1.Here Comes The Unique Accessory Unique List

The best use of Orb of Chance is Headhunter. You should keep in mind that this unique belt is worth over one hundred Exalted Orbs. The base type of Headhunter is Leather Belt.

Leather Belt has 7 unique versions, and they are:

01.Cyclopean Coil
02.Gluttony
03.Headhunter
04.Hyperboreus
05.Immortal Flesh
06.Umbilicus Immortalis
07.Wurm's Molt

There is no item level requirement for Leather Belt. And since Headhunter was exclusive to the Nemesis league. In order to chance a Headhunter, you must enter a map with "Nemesis" mods. You can choose the Nemesis Map Mod from Zana's map device.
The following is the link for chancing Belt, Ring, and Amult.
You can CLICK HERE.
2.Here Comes Orb Of Chance Unique Map In Path Of Exile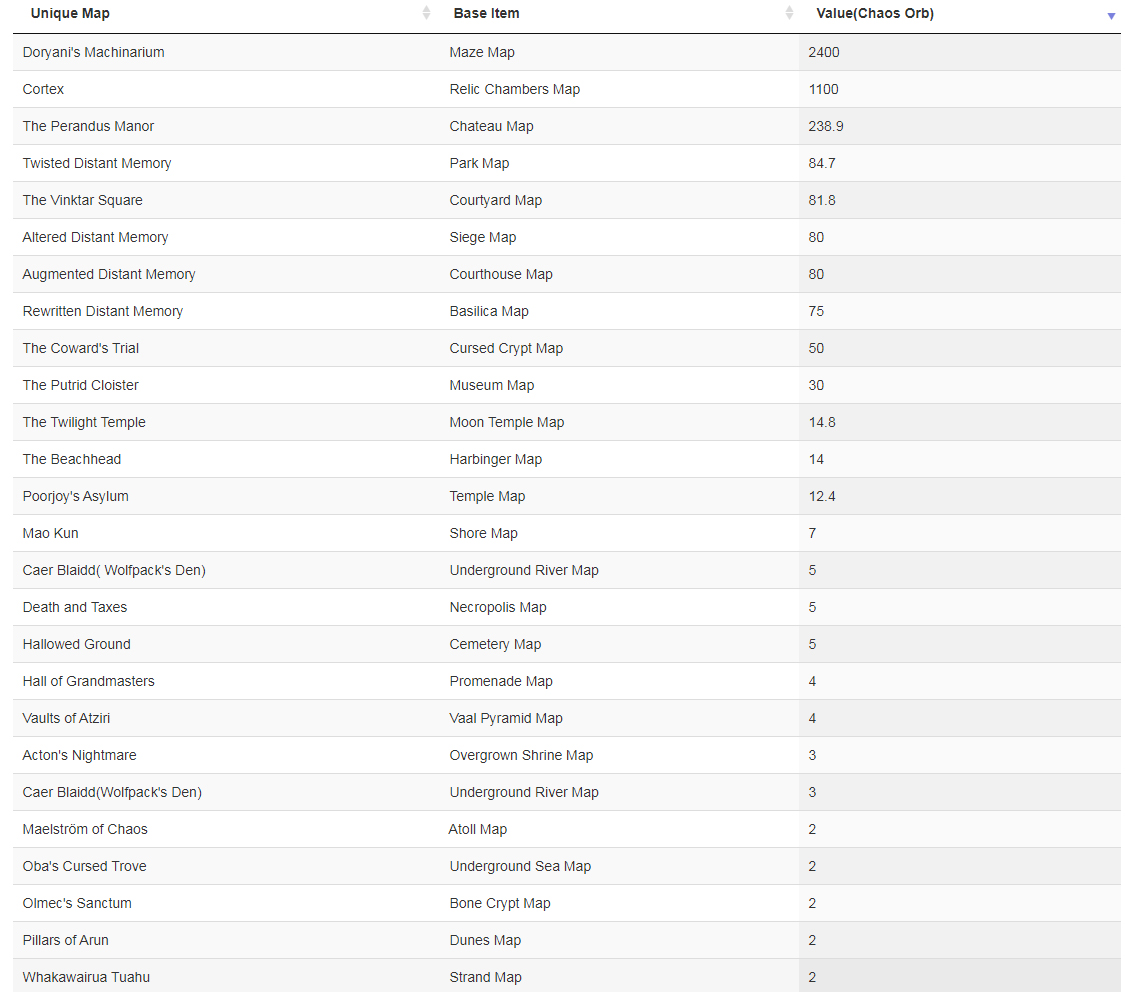 Fifth One: How To Farm Orb of Chance In Path Of Exile?
①: You can farm Orb of Chance by killing monsters, the drop level of Orb of Chance is 2 and the drop rate is around 5.508%. As a matter of fact, killing monsters is the best way to get Orb of Chance. This currency item could be dropped in any Act and any map. Increasing your farming efficiency, killing more monsters, the probability is that you can obtain more Path of Exile currency.

②: Apart from getting Orb of Chance by killing monsters, you also can find this common currency item from chests, and destructible containers. Meanwhile, it also drop from Arcanist's Strongboxes.

③: The third method to get Orb of Chance is from vendor, this Orb can also be purchased from Clarissa (Act 3 and 8), Petarus and Vanja (Act 4 and 9) Lani (Act 5, 10 and Epilogue) and Yeena (Act 7) for an Orb of Fusing. Right now, one Orb of Fusing equals one Orb of Chance (and you should choose Clarissa, Act 3 vendor).

④: Here are some vendor recipe to get Path of Exile Orb of Chance

-④.01 X of a Kind Recipe

This basic recipe requires multiple identified rare items with the same name. Here comes the image explanation:





-④.02 Here Is Full Rare Sets Vendor Recipes To Get Orb of Chance

These recipes require a full set of rare items. A full set is capable of filling all item slots in the inventory screen (not including flasks, the alternate weapon set, or a quiver). Specifically, it consists of:

One of the following:

Two-Handed Weapon (including bows, quiver not required) ×1
One-Handed Weapon ×1 and Shield ×1
One-Handed Weapon ×2
Shield ×2
Helmet ×1
Body Armour ×1
Gloves ×1
Boots ×1
Belt ×1
Amulet ×1
Ring ×2

The type of currency produced relies on the item with the lowest item level in the set, and the quantity on whether they are all unidentified and/or 20% quality:





⑤: If you sell a normal, magic, rare and unique item with the same base to an NPC, then you get 5 Orbs of Chance. For instance, the Unique item Wurm's Molt is a Leather Belt, so if you sell that along with a normal, magic, and rare Leather Belt to a vendor, that means you can get Chance Orbs.

⑥: Trash to Treasure, in Path of Exile, is a prophecy. It guarantees a unique item. But, the price of Trash to Treasure is quite expensive, which worth at least 10 Exalted Orbs.

Objective: Use an Orb of Chance on any normal item.

Reward: The item will turn into unique.

⑦: If you sell 2 rare items with the same name to an NPC, you also get a Chance Orb. Sometimes strongboxes contain mirrored items - mirrored items are identical copies of an item, and can be used for this.

⑧: NPC-s sell Orbs of Chance for 1 Orb of Fusing, but that is totally a ripoff, don't use that deal unless you do not have any choice at all. Orbs of Fusing are more expensive than Orb of Chance

⑨: By using Orb of Chance Divination Card will also grant you some Orbs of Chance. Like 4 The Fool equals 20 Orb of Chance. And you can find this at Pen Map.

⑩: The price of Orbs of Chance is $0.207/100 on EZNPC, and this website offers various legit and cheap Path of Exile currency to buy. Start to enjoy PoE by buying a safe PoE Jeweller's Orb.

Sixth One: How To Use Orb Of Chance In Path Of Exile?
(1): Just as you know, Orbs of Chance are quite common and cheap, you can use them as you like, although you probably won't achieve much with them until the endgame, when you can have hundreds of them.

(2): Orbs of Chance are the only way to upgrade an item to a Unique Item. The chance to make an item Unique with an Orb of Chance is very low, you will most likely need several hundred to several thousand attempts.

(3): Sometimes gamers pick up each normal rarity version of an item type they find, then, try to use Orbs of Chance on them and to try to get an expensive Unique item. Item filters in Path of Exile are quite useful for this - if you want to get a Kaom's Heart for instance, which is a Unique Glorious Plate, you could change your item filter to highlight all normal Glorious Plates.

(4): You can also use the Orbs of Chance that you get to buy Orbs of Scouring from NPC-s at a rate of 1 Scour for 4 Chance Orbs. Orbs of Scouring are often more useful, so based on the market prices this NPC trade might be an okay deal.

That is everything about Orbs of Chance in Path of Exile. If you find more valuable information about this item, welcome to share!