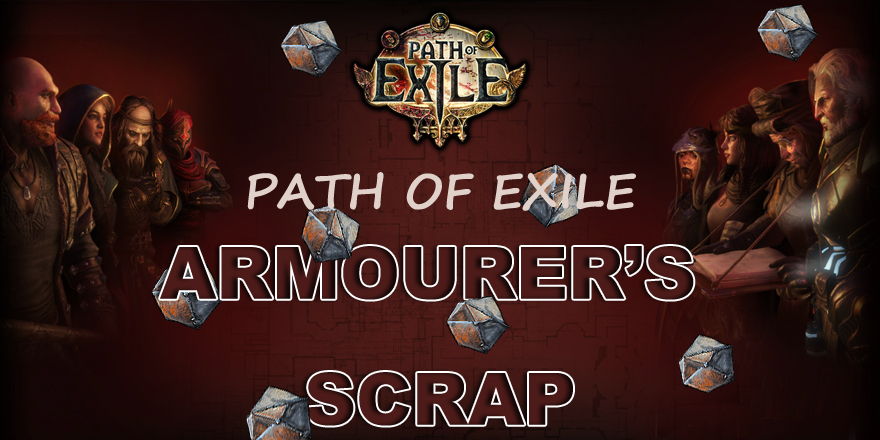 Q1: What's The Armourer's Scrap In Path Of Exile?
Not knowing too much Path of Exile Armourer's Scrap? Well, that's not a big problem, here comes the definition of this item, an Armourer's Scrap is a PoE Currency item that could be used to improve the quality of a piece of armour. And of course, each scrap applied to an armour will increase its quality by up at least to 5% depending on its rarity. In other words, you can use Armourer's Scrapes to increase the quality of an armour piece, meanwhile, increasing the amount of defenses it offers.

Q2: What's The Price Of Armourer's Scrap In PoE?
1 Armourer's Scrap = 0.0227 Chaos Orb
1 Armourer's Scrap = 0.0005 Exalted Orb

Click Here to get the current market price

Be Sure To Search In Your League To Get The Right Price.

Q3: How To Improve The Quality Of Armourer's Scrap?
Just as the definition says that Armourer's Scrap is a Path of Exile Currency that improves the quality of an armour. Armour in Path of Exile is a category of equipment worn on different parts of the body to
offer protection and bonuses from magical properties. Here comes the five types of Path of Exile armour: Body Armour, Boots, Gloves, Helmet, and, last but not least, Shield.

In Path of Exile, the defence values of the armour are improved by the percentage quality, additive with any local defense modifiers on the item.

You can right-click Armour Scraps and then left click an armour to apply it. Because of its rarity, each scrap applied to an armour will increase its quality by up to 5%: improves the quality of rare and unique items by 1%, normal items by 5%, and magic items by 2%. However, the maximum quality is 20%.

At the same time, quality on armour is also could be used to improve the opportunity of gaining sockets or links on an item by using an Orb of Fusing or Jeweller's Orb. The item's quality will no longer be consumed when you are using an Orb of Fusing or a Jeweller's Orb on it. Cut a long story short, every 1% quality improves the chance of getting more sockets or links by 1%.

Q4: How To Use Vendor Recipes To Get Armourer's Scrap In Path Of Exile?
①: You can use the following vendor recipes image to get Armourer's Scraps, check this out:





When you are done for multiple instances of the recipe at once, you should keep in mind that each individual combination must add up to 40%. For example, 7,9,13,15,17,19 would add up to 80, however, that would not actually grant you 2 of the resulting quality items, only 1, because the individual combinations do not add up to 40 each.

②: Another way is Beastcrafting, this method of crafting is by sacrificing beasts to the blood altar in the Menagerie. Each beastcrafing recipe requires at least four beasts to be sacrificed, with most of them requiring at least one specific Red Beast and three Rare Beasts. And those four chosen beasts are released into the arena surrounding the blood altar and must be slain to finish the recipe. If the gamer dies during the attempt, then the recipe fails and the beasts are lost.

If an item is created, then the resulting item level is just equal to the level of the main beast sacrificed. Recipes that create unique items could generate league-specific uniques.

③You can use Armourer's Scrap downgrade recipe, there are a downgrade for Armourer's Scrap to vendor 2 Scrolls of Wisdom.

Q5: How To Farm Armourer's Scrap In PoE?

1): The drop level of Armourer's Scrap is 1 and at the same time, it has a relatively high drop rate. All of that means you can get it by slaying monsters, opening strongboxes, and chests.

2): You can purchase Armourer's Scrap from the vendor, and the price is like this:

1x Armourer's Scrap EQUALS 1x Blacksmith's Whetstone

And Tarkleigh (Act1, Lioneye's Watch) sells an Armourer's Scrap with the cost of a Blacksmith's Whetstone. PLEASE NOTE that Blacksmith's Whetstones are actually a bit more valuable than the Armourer's Scrap.

3): You can sell an armour piece (Body Armour, Shield, Helm, etc) with 20% quality to an NPC in order to get 1 Armourer's Scrap. Alternatively, you can sell several items with a total quality of at least 40% to get one. This is likely never worth it though, because you know, Armourer's Scraps are basically worthless.

4): You also can get a lot of Armourer's Scrap by following the above Vendor Recipes.

5): Farming Armourer's Scrap by using Divination Card, you can follow the following table:





As you can see, quality currency generally includes Armourer's Scrap, Blacksmith's Whetstone, Cartographer's Chisel, Gemcutter's Prism, and Glassblower's Bauble.

6): Use prophecy to get Armourer's Scrap, the Hardened Armour is a prophecy. Your goal is to use Armourer's Scrap on any armour, and the reward you can get is, increases Armourer's quality to 20% with a single Armourer's Scrap.

7): In order to get Armourer's Scrap, you can exchange currency items for scraps with other players. For instance, the ratio of Chaos Orb to Armourer Scrap is 1:100.

8): Last but not least, the price of Armourer's Scrap is $0.297/100 on EZNPC, and this website offers various legit and cheap PoE currency to buy. Start to enjoy PoE by owning a safe Path of Exile Armourer's Scrap.

Q6: How To Use Armourer's Scrap In Path Of Exile?
Just as I emphasized above, Armourer's Scraps are quite cheap, therefore, you can use them anytime as you like, although you possibly won't have enough of them to use on every item while you are leveling.

In Path of Exile, you can increase the quality of an armour piece to up to 20%. Quality only increases the Energy Shield, Armour, and Evasion Rating of an item - or just the stat that is above the very first line in the description.

Since quality in Path of Exile offers a small increase in the item's defenses, at the very first you should not worry about it at all. It is in the end game that you will hope to get as many small incremental buffs as you can, and then you will add quality to all of your gear.

If one Armourer's Scrap adds 1% quality to a Rare or Unique item, 2% quality to a Magic item, and 5% quality to a Normal rarity item. Therefore, if you are now crafting something, it is most efficient to add quality before you turn this item into a much higher rarity.